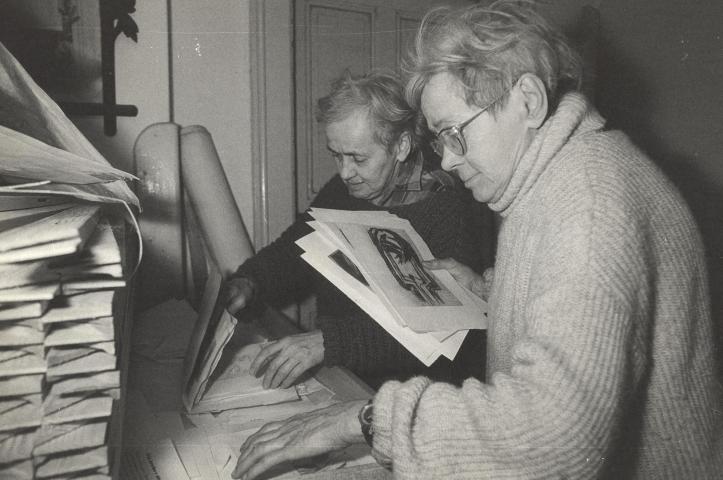 The Legacy of the Válová Sisters
A conference on Artistic Legacies
Bendlova Street no. 6, Kladno
–
A conference on Artistic Legacies, Together with a guided tour of the studio and house of Jitka and Květa Válová in Kladno
Květa Válová and her sister Jitka may be considered to be two of the most important figures in the history of post-war Czech art. Both studied at the Academy of Arts, Architecture and Design in Prague, becoming, in 1954, members of the art group Trasa, among which they also often exhibited. Along with Andrea Šimotová, Alena Kučerová and other artists, they are among the most important proponents of a style called New Figuralism. The Válová sisters took part in a few dozen exhibitions, both at home and abroad. Both painters remained unwed up until their deaths and, until Květa's death in 1998, they both lived and worked in their native home in Kladno. Jitka was deeply affected by her sister's passing, and for two years she refused to paint anything at all. She died in March, 2011.
The sisters' life and work are closely intertwined with their native town of Kladno and their house at Bendlova Street No. 6, where they both lived and ran their studio. Since March of this year, their life is commemorated by a memorial plaque placed on the facade of the house. This conference, which will be held in the interior of this very house by curator and artist Dagmar Šubrtová; together with Marie Vydrová, the heiress of the sisters' estate; with the support of the Agosto Foundation. It will explore the possibilities for the future of the house and will explore the Válová estate in a broader context by examining case studies of legacy preservation for other notable artistic figures.
Due to limited capacity, it is necessary to register beforehand by emailing dumvalovek@email.cz. Apart from the conference, a guided tour of the studio can also be scheduled. Both the conference and the guided tour are free of charge.
---
Program
• 1:00 PM – Dagmar Šubrtová and Marie Vydrová: Welcome
Gabriela Havlůjová will also offer some opening remarks from her position as municipal deputy of development of Kladno's cultural heritage. There will follow a tour of the house, of the studio of Jitka Válová, the living room, and the glass mosaic in the bathroom, as well as the archive and the attic.
• 1:30 PM – Jan Rous: On Processing the Textual Component of the Jindřich Chalupecký Estate
Jindřich Chalupecký (1910-1990) was an eminent art and literary critic, essayist, art historian and translator. During his life, he supported a number of both Czech and foreign artists, and focused much on art criticism. He counted himself among leftist intellectuals and, apart from publishing in literary magazines and newspapers, he also worked as a theoretician in the group Skupina 42. He was chairman of the editorial board Výtvarná Práce (Art Work) and the Obelisk publishing house, and between 1965 and 1970 he was commissar of the Václav Špála Gallery. It was during this time that the Válová sisters exhibited there. Jindřich Chalupecký also acquiesced to his name being used for the famous award given out to young artists. The society of Jindřich Chalupecký now supports modern Czech fine art and works to strengthen their presence both in the Czech and international contexts.
• 2:00 PM – Martina Lehmannová: The Birthplace and Society of Josef Hoffmann in Brtnice
Josef Hoffmann (1870-1956) was a Czech native who lived in Vienna and who fundamentally influenced European architecture and design. The birthplace of Josef Hoffmann is now in the possession of the town of Brtnice, and since 2006 has been operated by the Moravian Gallery in Brno. It operates under the joint auspices of the Moravian Gallery in Brno and MAK, the Museum of Applied Arts in Vienna. In 1907, Josef Hoffmann famously renovated the home to the standards of Vienna modernism, and this is not by any means the only project he undertook within his home territory. Hoffmann's career picked up after he was commissioned to do the guest house of Poldi in Kladno, which was constructed in 1902 for the owner of the ironworks, Karel Wittgenstein. From this success, he received further commissions and in fact found a generous donor in Wittgenstein for his applied arts workshops Wiener Werkstätte, which he founded in 1903.
For more information: moravska-galerie.cz.
• 2:30 PM – Susanna Wagner Horvatovičová: Casa d'Arte Futurista Depero, Italy
Casa d'Arte Futurista Depero is a museum-house which was founded by the well-known Italian Futurist artist Fortunato Depero in 1957, in collaboration with the city of Rovereto. Not only did Depero design the house, but he also personally oversaw each detail of its interior: from furnishings, painted panels, mosaics, wooden floors, to paintings and sculptures. He died in 1960, soon after the museum's opening. Today, the house belongs to the city of Roverto and the Trento cultural region. In 2009, it underwent renovation in cooperation with the Museum of Modern Art, MART, of Rovereto. The Casa Depero is a permanent exhibition, offering the public a year-round cultural program of various short-term exhibitions, guided tours, and consultations of the Depero archive. It is an interesting example of a city museum being founded by local artists.
For more information: www.mart.trento.it.
• 3:00 – 3:30 PM – Break
• 3:30 PM – Jaroslav Pergl: Students of Filla and Kladno
Both Květa and Jitka Válová studied under Professor Emil Filla at the Prague Academy of Art, Architecture and Design. The post-war generation was an important one, and it is worthwhile to reflect on the fate of certain individuals who held positions as advertising artists for Kladno businesses. The house of the Válová sisters played an important role in the modern history of Kladno, as it was a meeting place for artists of various generations. These artists often came from outside Kladno, often from Prague or abroad. Once in the town, they would take part not only the well-known vernissages of Kladno's Klubko 55, or the Malá Galerie, but also at the Valová's.
• 4:00 PM – Richard Drury: A presentation of a potential conception for an exhibition of the Válová sisters' work, intended to mark the 100th anniversary of the Central Bohemian Gallery in Kutná Hora, planned for 2022..
• 4:30 – 5.30 PM – Discussion
---
How to reach us from Prague: From Nádraží Veleslavín take bus 300 or 399 to the stop Gymnázium in Kladno. Bendlova street is about 150m from there, paralleling to the road from Prague.
Organized by Dagmar Šubrtová and Marie Vydrová in collaboration with the Agosto Foundation and the Municipality of Kladno.
Contact: Dagmar Šubrtová: 723 436 528
For more information, such as biographical material and photo documentation, please visit the Agosto Foundation Mediatéka at: agosto-foundation.org.
---
Participants
Gabriela Havlůjová graduated with a Master's degree in Oral History – Contemporary History. She currently works at Kladno's municipality as a coordinator of various entities and activists, and devotes much of her time to oral histories.
Jan Rous is an art historian who focuses on the history of Czech book culture, specializing on graphic design. He worked as editor for the Obelisk association of fine artists and was also curator of the graphic arts collection at the museum of The Academy of Arts, Architecture and Design where he later also taught and worked. He is a member of the Czech Association of Art Historians, and is author of numerous art-historical studies.
Mgr. Martina Lehmannová is currently the director of the Lidice Monument and the chairwoman of the Czech ICOM. She focuses on art, design, architecture and history of the 19th and 20th centuries. While working as curator at the Moravian Gallery in Brno (2001–2011), she was curatorially responsible for the native house of Josef Hoffmann in Brtnice.
Susanna Wagner Horvatovičová graduated from art history in 2006 and collaborated as curator with the Czech Cultural Center in Rome. She graduated with a PhD from Charles University's Department of Art History. She currently teaches museum studies at Prague's ADI art school and also partly organizes Italo-Czech exhibitions.
Jaroslav Pergl is a photographer, chronicler and publicist in a regional newspaper. He prepared the publication of Mikoláš Aleš a Kladno (2000), and initiated and co-hosted the exhibition "Filla's Students" in the Zámecká Gallery in Kladno. He lives in Buštěhrad, where he has worked as chronicler since 2006. He is active in the city's cultural committee as well as in the editorial committee of a regional newspaper where he also publishes, mostly on the theme of regional history.
Richard Drury was born in Scarborough, England. He did Bohemian studies at Cambridge University with Professor Karel Brušák. He has held notable positions at the Czech Museum of Fine Art in Prague, and the Umělecká Beseda association, of which he was also chairman from 2008 until 2017. He has authored numerous exhibitions, among them also the last group exhibition of both the Válová sisters in 2011 at the Severočeská galerie in Litoměřice, while Jitka was still living. Since 2013, he has been head curator at the Central Bohemian Gallery in Kutná Hora.